Our Lab is interested in stem cells, especially hematopoietic and intestinal stem cells and aging of stem cells. We work on unraveling intrinsic changes in stem cells upon aging as well as how the niche is affecting stem cell behaviour. Furthermore, we investigate the involvement of HSCs in an aging immune system and the causes and consequences of HSC transformation. Another main topic of our research is how clonality and heterogeneity are achieved in stem cells.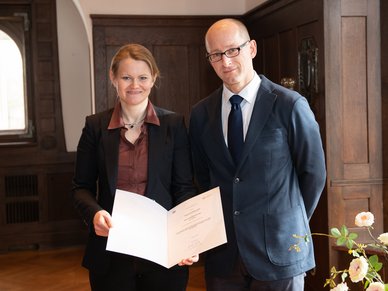 At Villa Eberhardt, Professor Rautenbach (Vice President of Career at Ulm University) awarded no less than five young researchers start-up funding and presented their scientific work in a way that was generally understandable. At the Institute of Molecular Medicine, Dr. Hanna Leins is investigating the relationship between the microbiome - the totality of microorganisms living on and in humans - and the immune system. She is particularly interested in possible effects of the aging immune system on the intestinal microbiome.
Congratulations Hanna!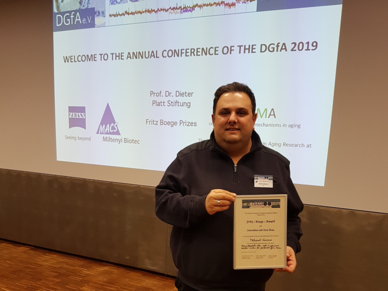 Innovation prize for our Post-Doc Mehmet
At the annual meeting of the German society for aging research our Post-Doc Mehmet received the Fritz Boege Prize for Innovation for his poster: "Hematopoietic stem cells in perisinusoidal niches are protected from aging".
Congratulations!
Haematopoietic stem cells in perisinusoidal niches are protected from ageing
Saçma M, Pospiech J, Bogeska R, de Back W, Mallm JP, Sakk V, Soller K, Marka G, Vollmer A, Karns R, Cabezas-Wallscheid N, Trumpp A, Méndez-Ferrer S, Milsom MD, Mulaw MA, Geiger H, Florian MC.
Nat Cell Biol. 2019 Nov
HPRT and Purine Salvaging Are Critical for Hematopoietic Stem Cell Function
Vogel M, Moehrle B, Brown A, Eiwen K, Sakk V, Geiger H
Stem Cells. 2019 Dec