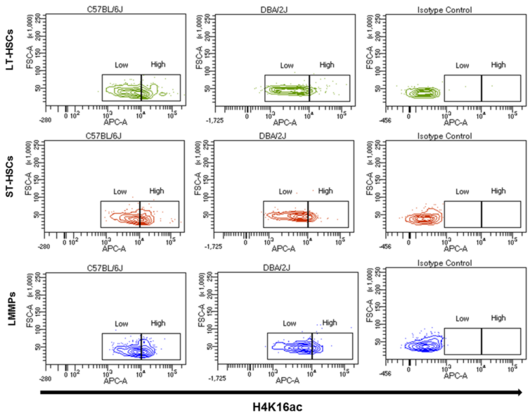 Regulation of Histone 4 epigenetic landscapeupon HSC aging
Aging of haematopoietic stem cells (HSCs) is associated with impaired haematopoiesis. Several reports suggesting that decrease HSC function upon ageing but the molecular mechanisms of this process remain still largely unknown.
Analysing changes in the Histone 4 epigenetic markers upon aging of HSCs in C57BL/6 and DBA/2. Genetic epigenetic screen to identify the modifiers of the aging associated changes in H4 landscape that might be contribute to aging associated leukemia using forward genetic approach.
Variable longevity in mice
It has been shown that different strains of recombinant inbred (RI) mice have variances in longevity or lifespan. Past work with BXD-RI strains (C57BL/6J and DBA/2J progenitor strains) identified a locus of chromosome 11 which accounts for over 60% of this phenotype. Our lab has created and maintained several congenic lines of C57BL/6J mice with different portions of Chromosome 11 from DBA/2J mice. An aging study allowed us to identify one congenic strain with increased longevity over both C57BL/6J and DBA/2J progenitor strains, and further define the region of chromosome 11 responsible for this phenotype. Currently we are investigating many genes in this area that are associated with SNPs differing between C57BL/6J and DBA/2J mice to determine which genes may be contributing to this phenotype.