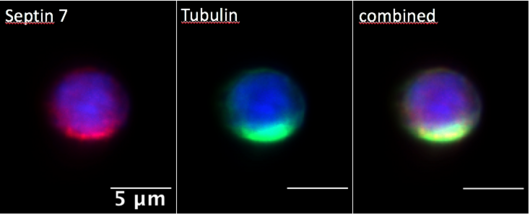 Reorganisation and ultrastructural changes in HSCs during aging
The project focuses on cell organization in regard to different activity levels of Cdc42. Herefore, the Septin Network and cell organelles are investigated by using 3D immunofluorescence microscopy or 3D electron microscopy, respectively. The main focus is on polarity establishment, maintenance and loss – which is very decisive in a LT-HSC life.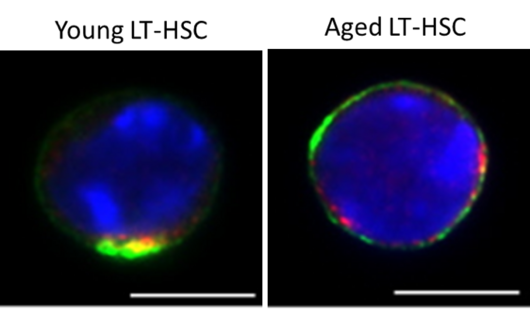 Polarity of Septin proteins in HSCs upon aging
The elevated activity of the small RhoGTPase Cdc42 in aged HSCs causes a polar distribution of cytoplasmic and nuclear proteins which is likely causative for the decrease in HSC function upon aging. The underlying regulatory mechanisms behind hematopoietic stem cell polarity are not known in detail. Here we investigate the role of the cytoskeletal proteins Septins in HSC aging and polarity.
Polarity of Cdc42 in human HSCs
As we age, our cells undergo a number of changes which affects their regular function and stem cells are not exempted. With advancing age, the cells of the immune system become dysfunctional, making individuals more susceptible to diseases, developing malignancies and less reactive to vaccines. I am interested in identifying some characteristic changes that human hematopoietic stem cells (HSCs) undergo because they produce and replenish the immune system. Our research shows that a small Rho-GTPase, Cdc42, plays a crucial role in the aging of HSCs isolated from humans. Furthermore, it may be possible to 'reverse' these changes pharmacologically thereby promoting healthy aging.